How an enthusiastic engineer fills the gap between high-quality expensive software and low-budget quality products is a dream come true in the name of Enozom Software. Hazem Torab – the CEO and Founder of Enozom, narrates the entire story interestingly.
Of course, it was a dream venture but also established as a means to help businesses with a variety of super-specialty IT solutions. Enozom Software came into existence in 2012 as an Alexandria, Egypt based software development company that covers a full-spectrum of software services to small, and medium-level enterprises, SMEs, and startups. It is also an exceptional outsourcing destination for large software businesses across the globe as well.
In an interview with GoodFirms, Hazem Torab, the CEO and Founder of the company, shared how the company came into formation and what his job responsibilities are.
Hazem initiates the interview by sharing that he always aimed to have a strong foundation in the IT world through some exceptional venture or project. He always dreamt of having talented and exceptional players on his team to jumpstart his professional journey as an entrepreneur and IT solution provider. He realized someday that reducing the cost of building software products is possible by smartly putting up things in diverse areas of project management, and architecture, and making things simple and efficient. 
Enozom offers amazing Software Development, Web Development, Web Design, Mobile App Development, and Software Testing services to its clients worldwide. He, being the CEO of the company looks after all the client and strategic planning-related matters in the organization.
Hazem regards Enozom Software as a fully in-house company. It runs basically on the idea of selecting the right minds to build strategically developed software and products. A powerful team composed of talented individuals is the company's forte to serve its clients best. Best product managers, web developers, mobile app developers, and quality engineers in the software market with vast experience and knowledge of different systems and solutions make the company different from its counterparts. Also, this gives an edge over-delivering complete projects and systems in the promised time with top-notch stability and absolute standards.
While asked about the type of industries catered by the company, Hazem names a few as tourism, education, E-commerce, finance, and E-government for which, Enozom Software develops high-quality SaaS applications. The prominent services offered by the company are web and mobile app design and development. The company is ranked as a top mobile app development company in Egypt in the GoodFirms ranking list and a client review displayed below is proof of how the company treats its clients.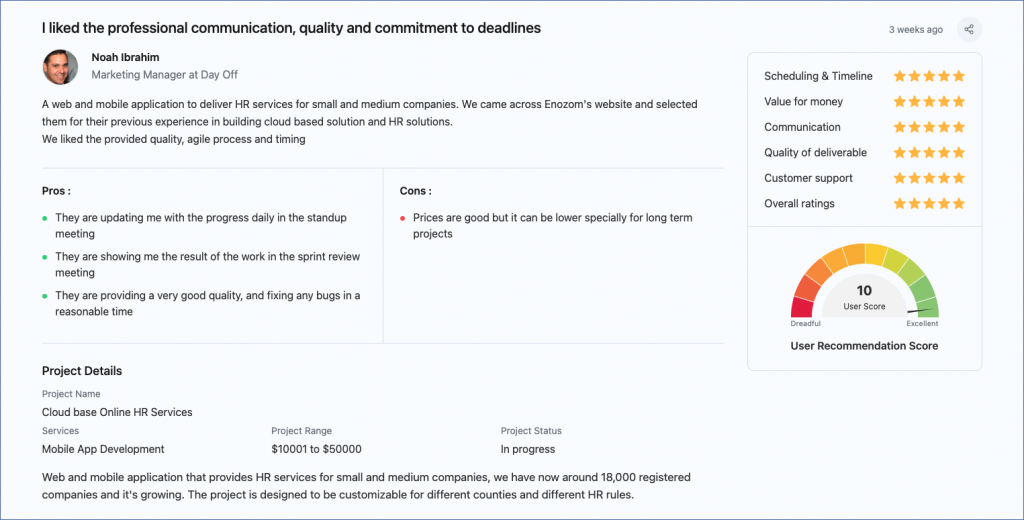 As Hazem cleared, the company's customer satisfaction rate at average is 98% and the 100% reference benefit is the booster. The team Enozom spends a lot of time getting their customers satisfied from start to end of the project, and periodical surveys and regular meetings are the means to get corrective actions if needed. The company professionals remain engaged and more involved with their customers in daily, weekly, and retrospective meetings and follow agile methodologies to support their customers.
Hazem explains that Enozom Software follows multiple payment structures. Projects with well-defined schedules and requirements are offered a fixed payment option. When a project is not regular and the client is not interested in hiring a full-time employee to work on it and it runs for example, a week each month, then a time and material cost model is offered. Also, when a client asks to get their own virtual team from the company to work on their project for a specific time period, they are offered an off-shore dedicated team model. 
Hazem confirmed that the company charged a $50k minimum budget for a project. They got many projects in 2021 from Europe, Canada, and the USA from which most of the projects ranged between $90K-$200K.
He concluded the interview on a positive note and shared the motto that the company is taking for the future. "I see us as one of the top software providers worldwide, in terms of team size and quality. I also aim to add value to the software industry and economy in Egypt within the next 10 years and beyond," he adds.
The detailed interview can be glanced at the company profile page of Enozom Software on GoodFirms website.
About GoodFirms
Washington, D.C.-based GoodFirms is a maverick B2B research and reviews firm that aligns its efforts in finding web development and web design service agencies delivering unparalleled services to its clients. GoodFirms' extensive research process ranks the companies, boosts their online reputation, and helps service seekers pick the right technology partner that meets their business needs.
About the Author
Prepared by Anna Stark, a Content Writer at GoodFirms, who bridges the gap between service seekers and service providers. Anna's dominant role lingers to form every company's achievement and critical attributes into words. She strongly believes in the charm of words and equips new approaches that work, always with concepts.