Take advantage of our 10+ years experience of building and successfully launching web and mobile software solutions. Extend your team with the top web & mobile developers for your short-term and long-term projects, from MVPs to a completed solution.
Work with the 
top 2% of tech talents
Enozom has an extraordinary team of product managers, designers, web developers, mobile developers, and quality engineers who deliver software projects on time and maintain top-notch development standards.
Project execution by experienced product builders.
Enozom is a software development company based in Alexandria, Egypt. We provide our clients with the full spectrum of software services focusing on web development, web design, mobile app development, and software testing.
Web
Development
Web design and web development services to deliver complete software solution using web applications.
Mobile App Development
Experienced mobile app developers from Egypt working on iOS app development and Android app development.
Web
Design
Build professional mobile apps and responsive websites by talented designers from Egypt with experience in user-friendly interfaces.
Software
Testing
A dedicated professional testing team as an extension of your company's internal capabilities, and experience in web and mobile app testing.
Different clients require different levels of engagement and support. Our work setup and Agile principles allow us to adjust to a project's specific requirements and provide tailor-made service.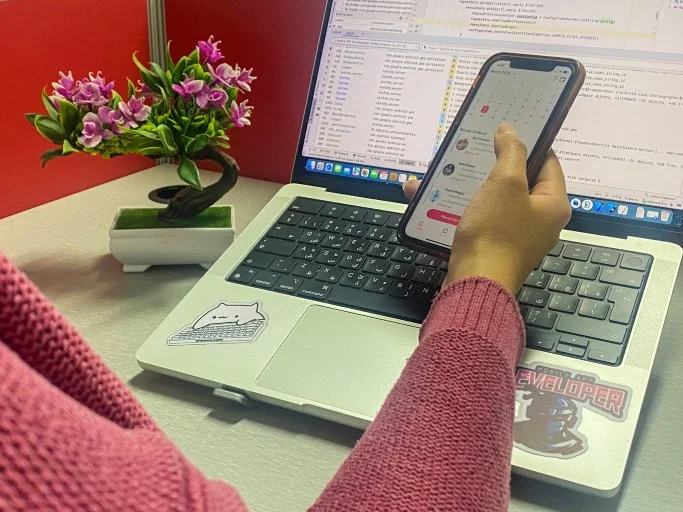 Save time and cost
Enozom can build your development team and kick-start your project and saves you the time and cost of building an in-house development team.
Flexible and scalable
Whether developing an MVP or a full complete software solution, Enozom teams are flexible, scalable and adaptive to your project needs.
Top technical expertise
Our candidates go through extensive and careful testing process to join Enozom, so we can ensure top quality output is delivered to our clients.
Our clients
are our partners
At Enozom we believe in partnership. Over the years we have developed many long-term relationships with our great clients from UK, USA, Germany, Egypt and KSA, building reliable solutions in both web and mobile app development.
Most clients stay over 3 years. Some stayed beyond 6.
Product Owner, Rental Management System
,
"They were very nice to work with with a very professional attitude."
Founder, abaqoo
,
"I was impressed by the true commitment of the wonderful people that were assigned to our project."
Director Cloud Dev., Empolis Information Management GmbH
,
"The team has delivered first class results. Working with the team at Enozom has always been very good."
CEO, IN.S.P.I.RE.
,
"They work hard to make sure that we are getting what we envisioned."
Director of Solution Delivery, Kiwi Systems
,
"When we work with them, we get what we expect on time."
Head of Product & Growth, Zad Group
,
"We had been able to shorten the time to launch without increasing the team capacity."
Former Lead Software Developer, Diversity Travel
,
''The way they worked and presented themselves was great.''
Technical Solutions Engineer, Add Energy Company
,
"I'm very fond of them, and they do great work. Their timeliness, specifically, stands out, as well."
Project Manager, IT Company
,
"They are transparent about what they can do and the technologies they will use."
Founder, Parenthood Platform
,
"We were very happy, they were on schedule and provided quality work."
Ready to start your project?
Let's get to work.